Fast Forward your Adverse Media Screening


Reduce risk and fast-track your adverse media (Negative News) research using NGA's RiskSecure AI-Powered Adverse Media screening solutions and data.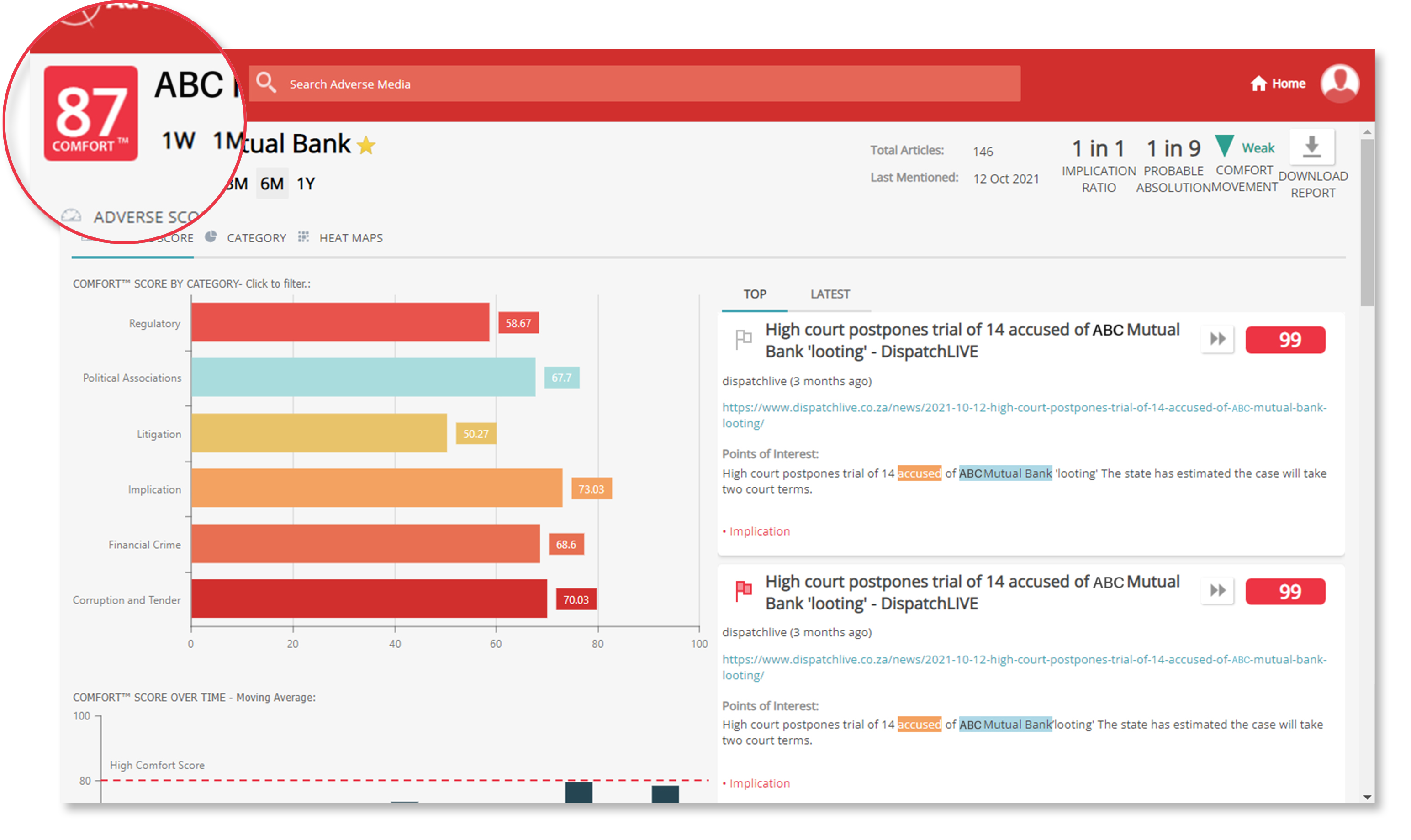 NGA's patented AI Adverse Media COMFORT™ score technology is the first contextually accurate score of its kind to rate an individual or company based on their digital risk footprint, giving you more strength on one website than a devoted team of researchers.
Trust RiskSecure for integrated adverse media screening solutions that modernize compliance workflows. Rapidly reduce onboarding time with our real-time access to global media sources and advanced risk assessment technology.
You are not alone if you:
Still rely too heavily on Google for your Adverse Media research and background checks.
Spend too much time reading through articles after a hit to determine risk level and relevance only to find it unrelated to your search target.
Have no oversight of your customer's Adverse Media risk exposure.
Only screen during onboarding and do not get alerted when the risk occurs thereafter.
Struggle with too many false positives and have no way of filtering or fine-tuning results by relevance or severity.
RiskSecure's intelligent automation eliminates these problems by streamlining the adverse media screening process.
RISKSECURE automatically scans thousands of unstructured global sources on the web and stores only the relevant ones that meet our Adverse Media criteria.
Using AI and NLP (Natural Language Processing), RISKSECURE automatically identifies actors, exact sentences and associations in 22 categories to make them searchable.
This data gets enriched with intelligent AI-Powered augmentation layers that score the actors based on their risk, summarizes articles and even calculates the relevance of sentences to speed up your decision making.
Compile, share and download results in seconds with easy to use use reporting and insights.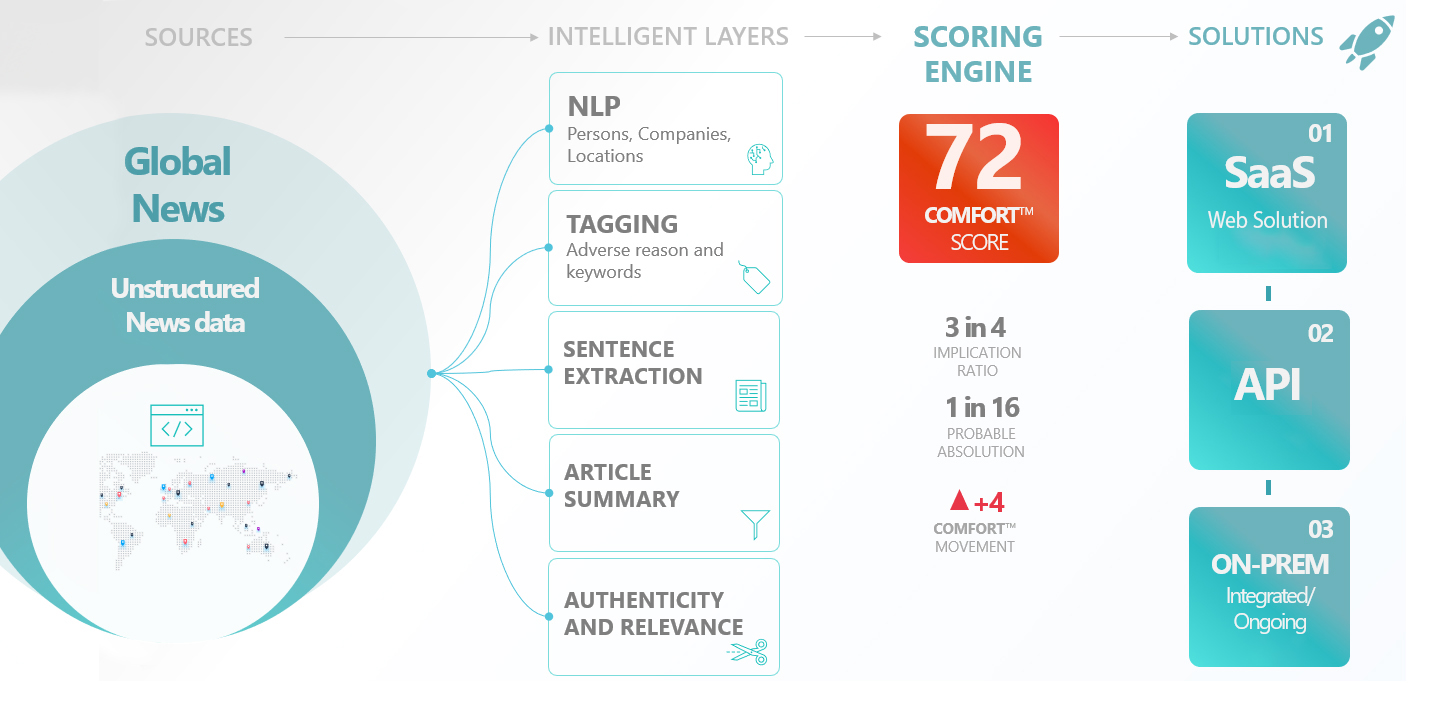 Achieve more with significantly faster reviews and less false positives
10 Companies = 5 Hours saved
100 Companies = 6 Work days saved
Supercharge your compliance workflows with RiskSecure's integrated adverse media screening solutions
Increases frequency of screening and reviews, but minimizes effort due to false positives.
Activate ongoing background screening to identify adverse events without volume restrictions and receive instant alerts highlighting new risks.
Go beyond keyword-driven search by including search-term positioning and our unique patent-pending Adverse Media COMFORT score to assist your investigation.
Eliminate tunnel vision by quantifying association risk. Your search target might be clean, but are they associated with high-risk persons or companies?
How you can access this data
A range of applications are available that deliver search results in a format you like!
Cloud-based SaaS web solution with an easy-to-use interface
Batch upload with ongoing daily adverse media monitoring
On-prem enterprise solutions available
Leading practice Screening categories
Adverse Media categories aligned with FATF and EU's 6th AML directive



Beyond traditional Adverse Media screening categories
Prominent Influential and Public Persons
in addition to the default categories, RISKSECURE detects persons and companies with possible connections to political or prominent persons and entities.
Probable Absolution
It is not enough to only detect Adverse Media, but to also assess the probability of an entity being absolved from their crime or implications. RISKSECURE goes beyond traditional solutions with a dedicated category that helps you determine whether an entity may have been cleared, falsely accused or absolved.
Screening solutions for every step of the customer lifecycle
From onboarding to ongoing. RISKSECURE has you covered.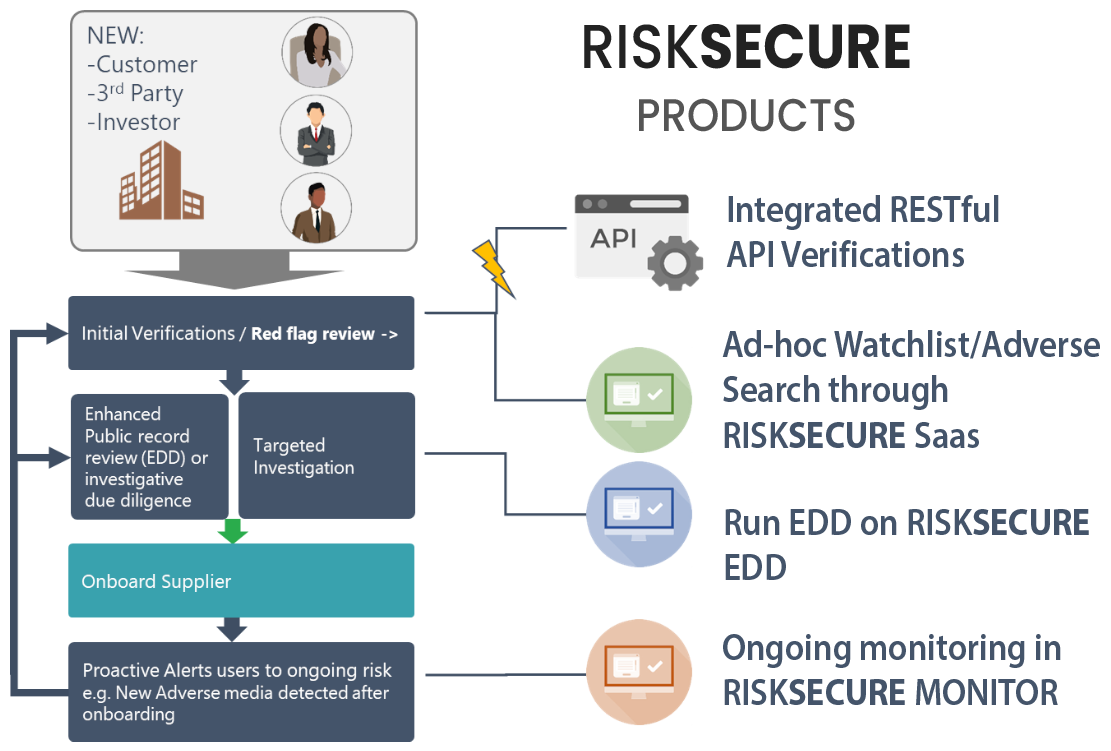 Ready to join our customers and make the move from reactive to proactive?
Discover more of our products
Enhance your compliance screening workflow with richer Adverse Media and Watchlist insights.
Screen your customers and 3rd parties against watchlists such as OFAC, UN, HMT, EU, PEP and other lists from around the world.
Detect and address new risks with our 24/7 risk monitoring suite or tools.
Join the conversation! Follow us on social media for the latest news and updates.