Automate your Global Risk Detection


Intelligent, developer-friendly screening API's seamlessly integrate with your existing Customer and 3rd party onboarding and Due Diligence workflows.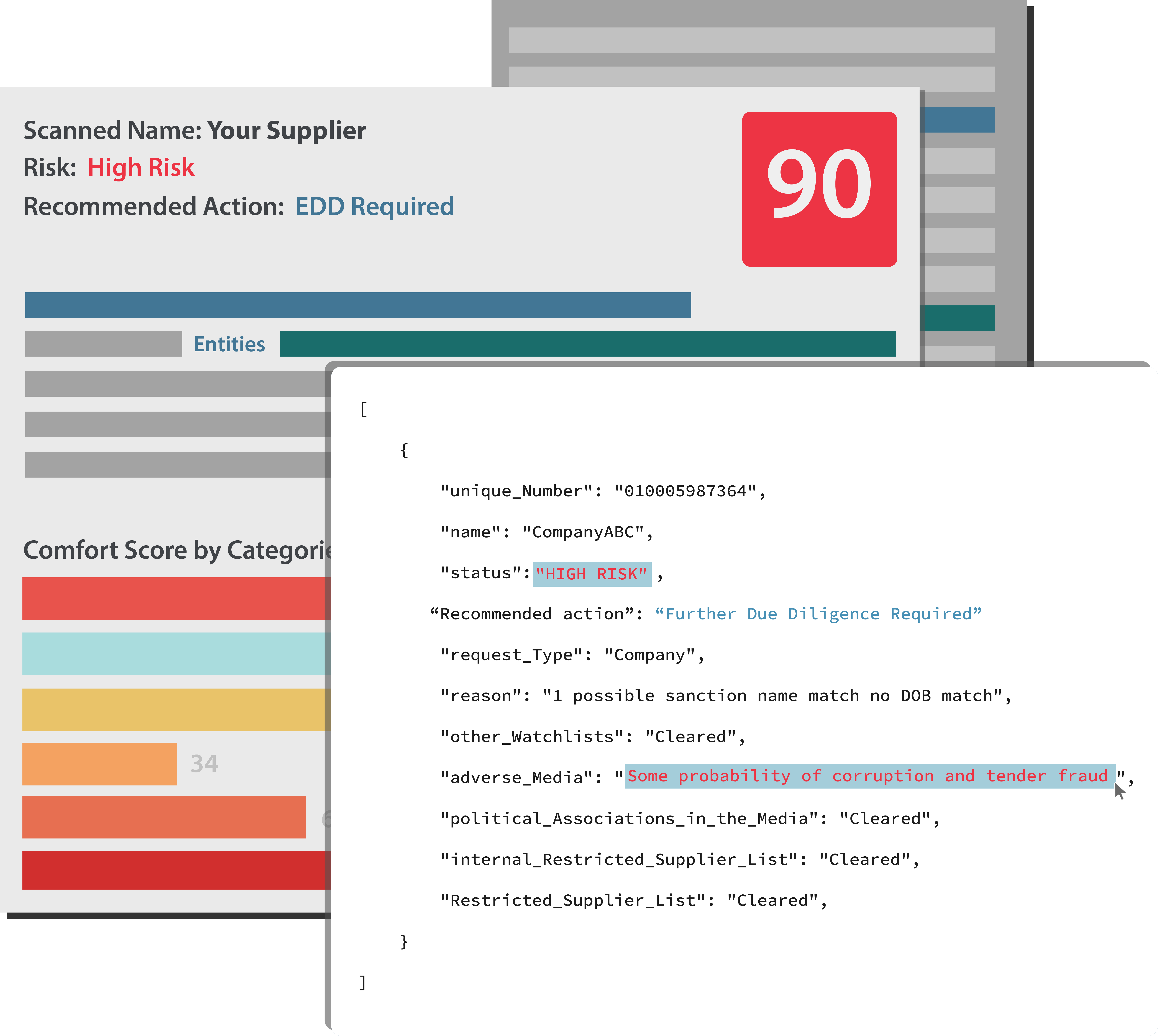 SEARCHABLE AND EASY TO UNDERSTAND 
Consolidated and structured global watchlist and news content in one central solution
A variety of API's available to enhance your applications and processes.
Global Watchlist Sanctions, PEP Crime & Sanctions
Screen your customers and 3rd parties against watchlists such as OFAC, UN, HMT, EU, PEP and other lists from around the world.
Your #1 source of Adverse Media (Negative News) data. 100,000+ news sources for Adverse Media in 22 categories.
Automatically scan thousands of up to date global Watchlist, PEP, Sanctions, Crime and Adverse Media records in a single API call. Includes a Low/Med/High Risk classification according to our intelligent risk matrix (both persons and corporates).
Detect outlier behaviour and FinCrime in real-time with our on-prem risk based API's.
Achieve the ultimate screening efficiency.
Developer-friendly documentation
Get setup in minutes with our comprehensive documentation, SDK development kit including examples.
Built on highly available, reliable backend and connectivity infrastructure to ensure 99.95+ % uptime. 
Our support experts will help you every step of the way to integrate our API's.
Data is refreshed every hour to minimize your onboarding risk.
Contact us to sign up and receive your unique key.
We'll send you the relevant REST API SDK documentation with examples to get you started.
Add the code and start screening in any software language.
Join these leading companies and sign up today
For pricing on our enterprise on-premis screening and monitoring solutions...